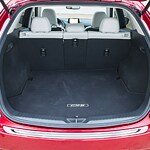 It probably comes as no surprise that riding in an SUV comes with some major benefits, but you may not be totally privy to what those benefits are. That's where we come in. At Brunswick Mazda, we want you to make the most informed decision possible when it comes to buying your next motor vehicle. It is for this reason that we wish to present you with a few reasons we believe driving an SUV is the perfect trend for drivers in Brunswick.
One of the biggest reasons that purchasing an SUV is a valuable option for so many is the space it provides. Whether you have kids, teens, pets, travel supplies, or equipment, an SUV is likely to provide you with all the space you need. Need to transport something large and heavy from point A to point B? Don't fret. Many SUVs today come equipped with towing capabilities so you can rig up and haul without hassle!
All in all, whether you need extra space or extra pulling-power, an SUV will likely have you covered. Stop in to Brunswick Mazda and take one out for a test drive, today!