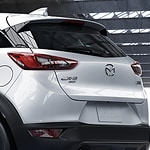 Look to the all-new Mazda CX-3 when you are in the market for a popular and eye catching subcompact crossover today. This newest Mazda crossover has design features that stand out as among the best in the business.
Thanks to its Mazda Connect system, it provides you with a virtual assistant while you are driving. You can speak to it and give it commands, such as changing the radio station or dialing someone in your phone contacts. You keep your eyes, hands and attention where it matters most, on the road and the steering wheel.
The new CX-3 also has an innovative street traffic sign detection system that recognizes and alerts you to traffic signs. It prevents you from not paying attention and perhaps turning the wrong way on a one-way road or merging into traffic without yielding first. It displays the signs for you to take notice of on the inside of the windshield.