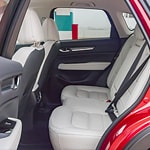 One of the hottest and most sought-after automobiles for 2020 is the Mazda CX-5. This particular automobile is a crossover as it's the perfect combination between a sedan and SUV. Consumers can ride in style thanks to the vehicle's elegant exterior, and the interior is laced in premium upholstery.
Advanced technology has been implemented into the 2020 Mazda CX-5. Located in the center dash is an 8.0-inch multimedia display that hosts numerous apps. If you'd like to stream music from your smartphone to the vehicle's system, then Android Auto fits the bill. In addition to that, iPhone users can take advantage of the available Apple CarPlay feature. Hands-free function is possible thanks to having Bluetooth capability. The new Mazda CX-5 will also offer HD radio as well as built-in navigation.
The time is certainly now to get a first-hand experience of this magnificent automobile. We will also provide a free test drive.