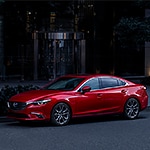 When it comes to popular mid-size sedans, the new Mazda 6 is the perfect example. This car can seat a number of individuals, it's loaded with advanced technologies, and its engine is primed to perform at optimum levels. Let's dive in deeper for more information.
When it comes to stellar good-looks, the Mazda 6 epitomizes the word phenomenal. This sedan sits with a low profile that's streamlined to perfection. Smooth surfaces can be see all over the car, and it has soft contours that will capture your attention. The front grille isn't overbearing at all as it matches the sedan's overall tone. The chrome trim does a great job of accentuating the top portion of the frame. Trim levels come in the Sport, Touring, Grand Touring, Grand Touring Reserve and Signature.
We urge all interested enthusiasts to swing by our location for a first-hand look. Test drives are also on the menu.